THC Formula Medical Cannabis Oil Extract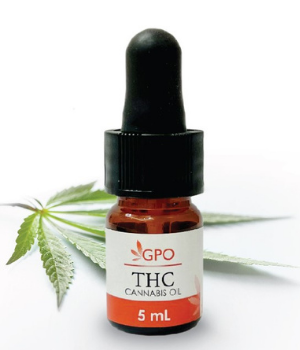 Indication
Chemotherapy Induced Nausea and Vomiting
• Currently receiving chemotherapy for treatment.
• Being treated with standard treatment but still has severe nausea/vomiting.
Intractable Neuropathic Pain
• Chronic pain for more than 3 months.
• Characterized by chronic pain caused by nerves, such as neck pain radiating down the arm, back pain radiating down the leg, hip pain radiating down the legs, numbness of the hands and feet, pain in the musculoskeletal system, or pain from a herniated disc.
• Characteristics of pain such as numbness, sharp pain, pain like a needle stab, sensation like an insect crawling, or pain like an electric shock.
Or Use as Prescribed by a Doctor
Package size 5 ml (each drop contains 0.5 mg of THC)
Use 1 to 2 drops under the tongue as an initial dose and slowly increase as directed by a dermatologist.
Do not use in patients with known hypersensitivity to THC or any of the ingredients in the pharmacopoeia. • Cannabis extract should not be used in patients with severe coronary or cerebrovascular disease, or who have risk factors for coronary artery disease. • Cannabis should not be used in patients with severe hepatic or renal impairment. • People with preexisting psychosis or having concurrent active mood disorders or anxiety disorders. • Avoid using cannabis in pregnant women, lactating women, including women of childbearing age who do not use contraceptives, or women planning to become pregnant, as studies have shown associated low birth weight preterm infants and cannabinoids can be found in breast milk. • Should be used with caution in patients receiving concomitant therapy with antidepressants or other active medication.
• Should not be used in individuals under 25 years of age unless a physician determines the benefit to the patient outweighs the risk. • May cause drowsiness, so should not drive a vehicle or work with machinery, or do dangerous work. • Should not be used for a long period of time because it may cause addiction, unless prescribed by a doctor. If used regularly, the effects of treatment should be periodically evaluated, and consult a doctor before discontinuing the drug, as the dose may need to be reduced gradually to prevent withdrawal symptoms. • Should be used with caution in patients receiving concomitant treatment with antidepressants or other psychoactive drugs because it enhances its CNS depressant effect or increases its psychoactive effects. • Should be used with caution in patients with a history of substance abuse, including those with a history of alcohol dependence. • If you have an allergic reaction to the drug, such as a rash, swollen mouth, puffy eyes or swollen face, stop using the drug and consult a doctor or pharmacist. • Use only under the supervision and prescription of a trained physician.