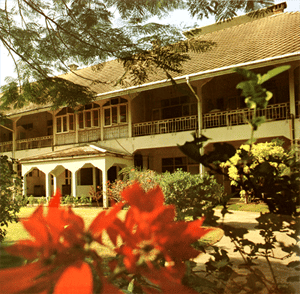 OVER 125 YEARS OF MEDICAL EXPERIENCE CARING FOR THAIS AND EXPATRIATES
The Origination of  Nursing Home
On 20th August 1897 the British community convened a meeting at the British Legation when Mr. George Greville CMG, the then British Minister Resident and Consul General, took the Chair. The meeting concluded that a medical facility should be established in Bangkok and the Committee proposed the project to H.M. King Chulalongkorn who approved and assigned the Ministry of Education to oversee the establishment of a Nursing Home.  H.M. King Chulalongkorn kindly provided supporting funds of 960 baht per year to make the nursing home a non-profit organization where foreigners who came to Thailand could turn when they were ill. The first task for the Committee was to rent temporary premises in Phya Dejo's Road to provide a small non-profit making nursing home to see to the  immediate medical needs of the resident foreign community.  The first Matron, Miss Cawley, and the Nursing Sister, Miss Hitchens, arrived in Bangkok in the middle of 1898 and the Nursing Home was in operation by August 1898.
The new BNH Hospital complex became operational in 1996. Occupying the same two-acre site in Convent Road, it is surrounded by mature trees and tropical greenery, and is located between Silom Road and Sathorn Road, close to the business, financial and entertainment district of Bangkok, It can be reached easily from all parts of the city by road, or by BTS Sky Train, MRT Metro, from the Sala Daeng Station.
BNH Hospital provides the highest quality medical service with specialists and general practitioner doctors completely involved with their patients, from consultation and diagnosis, through to planning and executing treatment, following-up of results, and in surgical cases, post operative card. The concept of 'the Family Doctor' is still highly valued at the BNH Hospital
The BNH hospital, formerly known as the Bangkok Nursing Home Hospital, was established originally to provide nursing care for expatriates. The hospital, opened by the British Ambassador to Thailand, Mr. George Grenville, CMG in 1898, was one of the first private hospitals in the Kingdom of Siam (Thailand).
In 1901, King Rama VI granted the BNH Association, a non-profit making organisation, a royal charter in honour of his father, King Rama V, and provided funds for the hospital to extend its care to Thais. In 1991, theBNH Medical Centre was formed to establish a new international standard hospital to meet the demands of the increasing domestic and international market for private health care.